Experience the first zip line to cross the Mississippi River!
January 26 – February 4
Cross the Mississippi River and fly into the Minneapolis skyline at over 100 feet in the air! You'll soar for nearly 800 feet while gliding alongside the historic Grain Belt bridge. The Bold North Zip Line presented by XOOX will run for ten days.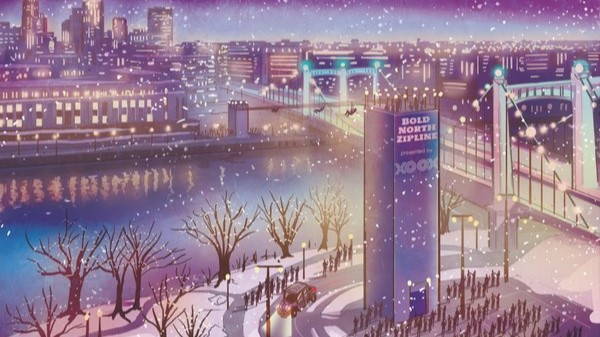 HOURS OF OPERATION:
Friday, January 26: 4p – 10p
Saturday, January 27: 10a – 10p
Sunday, January 28: 10a – 10p
Monday, January 29: 2p – 10p
Tuesday, January 30: 2p – 10p
Wednesday, January 31: 2p – 10p
Thursday, February 1: 2p – 10p
Friday, February 2: 10a – 10p
Saturday, February 3: 10a – 10p
Sunday, February 4: 9a – 5p
The Bold North Zip Line will run from January 26th, 2018 through February 4th, 2018. The event grounds will be stationed on the Lot located at 16 Wilder St. Minneapolis, MN 55401(adjacent to Nicollet Island Inn) and will cross the river right next to the Hennepin Avenue Bridge. Pre-sold time slots will be available for each individual day, with only limited tickets available. Onsite registration will also be limited, and will be handled as a first come first serve basis. Please pre-register if you would like to secure a spot.
Pre-sold registrations are sold in daily 2 hour time slots. We recommend arriving at the beginning of your time slot to allow for check-in procedures. Check in for registration, and day of registrations are available at two locations, Nicollet Mall and 7th, and at the event site (16 Wilder St. Minneapolis, MN 55401). Polaris vehicles will transport to and from the event site during operating hours
Online tickets to the Bold North Zipline presented by XOOX sold out in less than 36 hours.
Those who missed online sales will still have their chance to show their BOLD, with limited tickets being available for walk-up sales.
Click here to view Zip Line FAQs.

About XOOX – XOOX is a lifestyle backpack brand with the world's first patented detachable Bluetooth technology, created by a former Viking, Robert Griffith, whose passion is providing underprivileged students with college scholarships through Griffith Foundation. XOOX will be hitting the market with the unique ability to provide a solution for integrating speakers, cameras and mobile phones for the active person who needs to be connected. Please visit www.xooxbag.com.